Welcome to the Official Website of Malabar Diocese, Jacobite Syrian Christian Church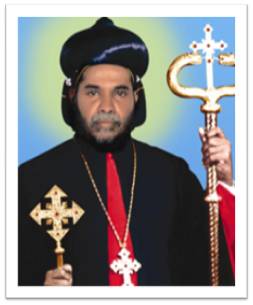 26th Dukhrono of Late Lamented Mor Philoxenos Samuel (Malankarayude Soorya Thejas) concluded at St. Peter's & St. Paul's JSO Cathedral, Meenangadi, on January 17, Monday. Metropolitan of Malabar, Mor Philoxenos Zacharias led Holy Tri Mass. Cor Episcopas, Priests of the diocese assisted Metropolitan. The pilrims from different parts of the diocese were welcomed at the cathedral at 9.00 AM. Mor Philoxenos inaugurated the public meeting followed by the Holy Qurbono. Rev. Fr. P C Paulose presided over. Rev. Dr. Jacob Michael Pulliyattel, V. Rev. Paulose Cor Episcopa Narakathuputhanpurayil, Fr. A P Mathai Athirampuzhayil, Fr. James Vanmelil, Fr. Baby Elias Karakkunnel, Prof. Dr. George Varghese spoke on the occasion. Metropolitan handed over the key of Samuel Mor Philoxenos Bhavan to Shri. Mathai Pottayil. Shri. Babu Paul Vandanathil, Master Brismo C Benny, Kum. Libina Elias were honoured. Dukhrono concluded with Nercha.
The Diocesan Day of Malabar Diocese and First anniversary of the consecration of Metropolitan Mor Philoxenos Zacharias held on January 04, Tuesday at St. Gregorios College of Education at Meenangadi. His Beatitude Catholicos Baselios Thomas I inaugurated the public meeting. His Beatitude officially inaugurated the functioning of Family Units in the diocese.
Metropolitan of Kozhikode Diocese, Mor Irenios Paulose inaugurated the official website of the diocese, http://MalabarDiocese.org,  Shri. P Krishnaprasad MLA inaugurated MANNA, the social and charity wing of the diocese. Shri. K L Paulose (Dist. Panchayath President) inaugurated the Ambulance Service of the diocese.
Shri. K E Vinayan (Vice President, Sulthan Bathery Block Pancayath), Shri Assainar (Meenangadi Panchayath President), Smt. Beena Vijayan (Member, District Panchayath), Smt. Mini Saju, Rev. Dr. Jacob Michael Pulliyattel, Chev. Prof. K P Thomas, Fr. James Vanmelil, Chev. A I Kuriakose Adukalil and others spoke on the occasion.
As a part of the celebration, Patriarchal flag was hoisted on all churches in the diocese on December 02, Sunday.
H.G. Mor Philoxenos Zacharias at Puthenkurish Akila Malankara convention 2010